A worker was injured Tuesday after falling from the Hingham Middle School construction site.
The 45-year-old man from New Bedford, MA, apparently fell from the third story scaffolding of the building around 1 p.m. on Tuesday afternoon. According to Hingham Police Sergeant Steven Dearth, the worker was conscious when paramedics arrived, and was taken to South Shore Hospital in Weymouth, MA.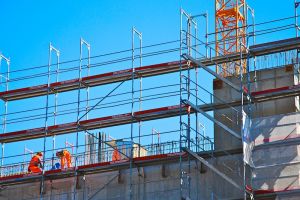 Construction at the school has since stopped while officials from the Occupational Safety and Health Administration (OSHA) investigate the incident. The identity and injuries of the worker are still unknown.
While it is still unknown the reason to why the worker fell in the first place, there are factors that may have played a role into his fall. Scaffolding is a temporary platform that is often used on construction sites to reach areas that are not accessible by ladder. These types of accidents occur for a variety of reasons including incorrect assembly, manufacturing defects, collapse or failure, broken platform, slippery surfaces, and inadequate training or experience with the equipment. And because of the height of these structures, injuries are severe or fatal and may include fractures, broken bones, spinal cord and traumatic head injuries, and even death.
Scaffolding and general requirements on construction sites are the number one safety violation cited by OSHA officials. Construction falls are also the number one cause of death and injury in workplace settings in the United States, accounting for 251 deaths (35% of total workplace deaths) in 2011.
Safety Tips for Workers
All laborers who regularly work on scaffolding must be properly trained with suspension scaffolding and fall protection equipment. In most scaffolding fall cases, the accident was completely preventable.
When working on scaffolding, workers should take the following precautions:
-Learn the proper OSHA standards and regulations for working on scaffolds; such as weight capacity, construction, fall protection, proper scaffolding use.
-Ensure that the scaffolding being used is designed correctly and conforms to OSHA regulations.
-Shield all scaffold suspension ropes and body belt harness system droplines from abrasive or sharp edges to prevent them from being severed.
-Carefully inspect all scaffolds and their components, as well as personal fall protection equipment.
-Ensure that all workers are well equipped with proper fall protection equipment prior to stepping onto a scaffold.
-Properly anchor tiebacks of the scaffolding at different points.

In addition to the physical harm sustained in a scaffolding accident, victims and their families often times must deal with a great amount of emotional and financial stress. Costs following the accident can include medical bills, lost wages, and psychological care.
If you or a family member was involved in a scaffolding accident, the first step after getting proper medical attention is to call an experienced work injury lawyer to discuss your rights. For nearly 50 years, the attorneys at Altman & Altman have been representing victims and their families of workplace incidents. We understand the impact a work injury inflicts on an individual and his or her family, and we promise to work vigorously to help our clients get the compensation they deserve. If you have a question about a potential work injury case, call our office to schedule a free initial consultation. Our attorneys are always available to answer any questions you have about your case.