A report published by The Massachusetts AFL-CIO and the Massachusetts Coalition for Occupational Safety and Health found there were 32 work related deaths in Massachusetts in 2012. Though the number is lower than that of 2011 (58 deaths), the organizations are calling for change at both deferral and state levels to further prevent workplace injuries and deaths in the Commonwealth.
The Facts
According to the study, motor vehicle accidents and falls were among the leading causes of workplace death, with 5 deaths being related to transportation accidents, and 6 deaths caused by falls. Construction site fatalities accounted for 19% of the total number of work related deaths, and remained the most dangerous work industry. The average age of death was 50 years old, but individuals ranged from ages 17 years to 73 years old. Of the total number deaths, 7 individuals were firefighters, and 4 were fishermen.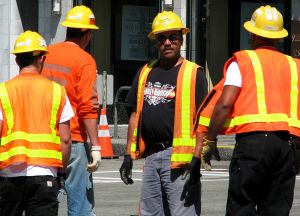 Though the number of fatalities over the past several years is "relatively low by historical standards," there were significantly high numbers of non-fatal work injuries and occupational disease diagnoses. According to the study, 50,000 people sustained serious injuries at work. More than 300 workers died from occupational disease and 1,800 workers were diagnosed with cancer or other diseases related to workplace exposure.
The major contributing factor in the number of workplace fatalities in Massachusetts, according to the report, is a lack of funding for OSHA regulators and lack of adherence by both employees and employers to exercise necessary safety precautions on job sites. There is, according to the organizations, little enforcement of safety policies by OSHA as well as ramifications for businesses that fail to institute proper safety measures. OSHA still remains seriously underfunded and understaffed, and lacks the ability to inspect each worksite and enforce protocols at every business.

What Needs to Change
The Massachusetts AFL-CIO, MassCOSH and Western MassCOSH, are currently seeking changes both on the federal level and state level to help prevent the number of workplace injuries in Massachusetts. Among the recommendations the organizations made, regulation and enforcement of safety standards was at the top of the list. Criminal prosecution and regular inspections, according to the report, may be the most constructive solutions to help deter employers from putting their employees' lives in danger.
On the work site, employers should better exercise procedures that ensure worker safety including proper staffing, and regulating workloads and work hours that do not pose or promote potential injury to employees. Workplace safety training programs and resources available to employees that promote safe workplaces are also essential. Additionally, the organizations recommended improving the Massachusetts Worker's Compensation to make it more fair and accessible to every individual injured at their workplace. Read the full report and comprehensive list of recommendations.
Unfortunately work injuries are unavoidable. Increasing the safety measures in the workplace can significantly reduce the risk of injury and the risk of potential fatal occurrence. At Altman & Altman we have been helping the families of injured workers for almost 50 years. If you have a question about workplace injury, call one of our experienced Boston workers' compensation attorneys for a free initial consultation.